Polycystic Ovary Syndrome Duo
Regular price
$173.00
Sale price
$156.00
Unit price
per
Sale
Sold out
Reduce oil production and decrease bacteria by using a unique peptide matrix with an anti-bacterial effect without causing the normal inflammation found in OTC drugs
Absorb elevated levels of oil while providing a mattified look and feel to the skin Calm deep, painful acne with antiseptic and anti-microbial ingredients
Create the appearance of smaller pores and resurfaces the skin by using a Smart Retinoid Complex and key peptides that allow for penetration to the lower levels of the skin without causing irritation
Share
View full details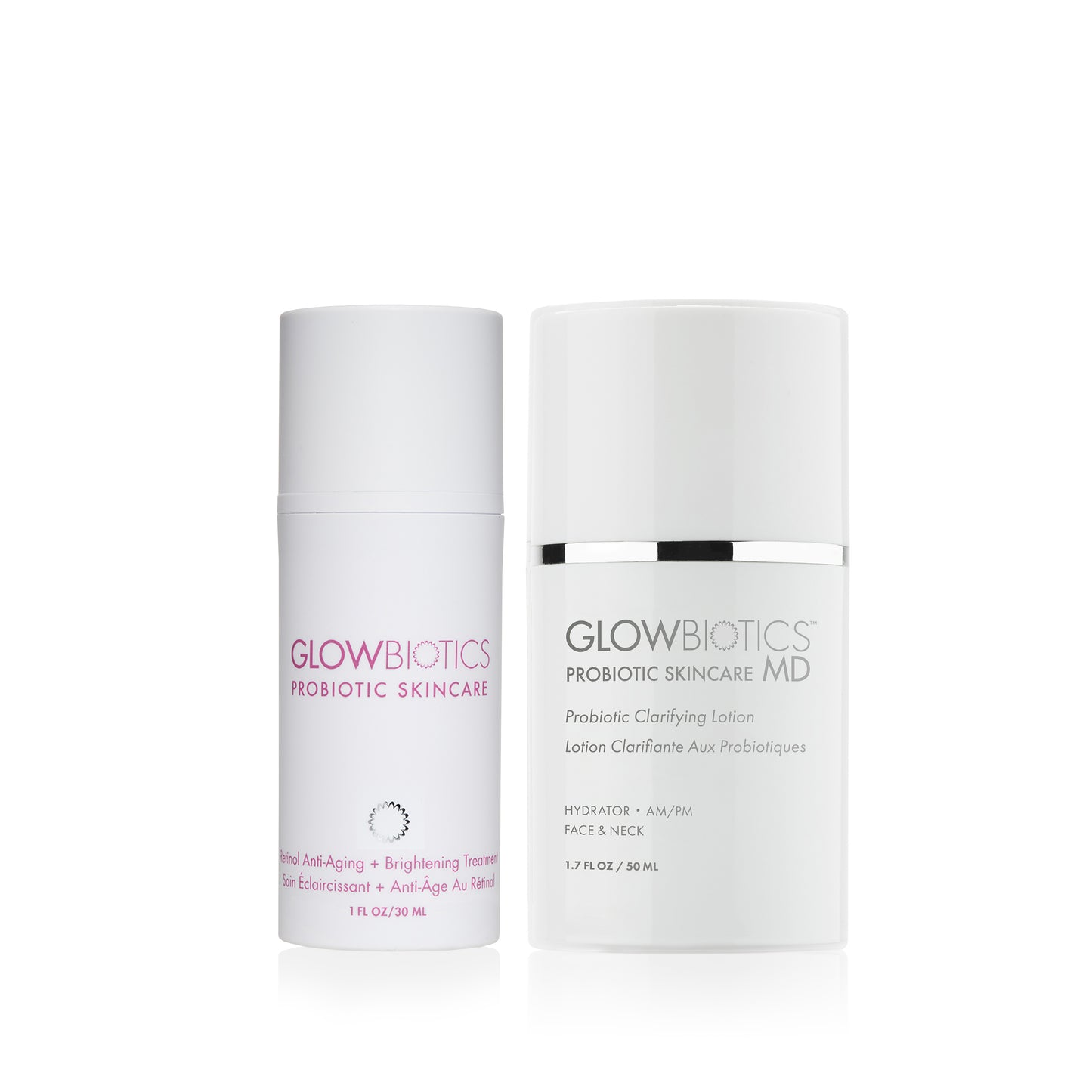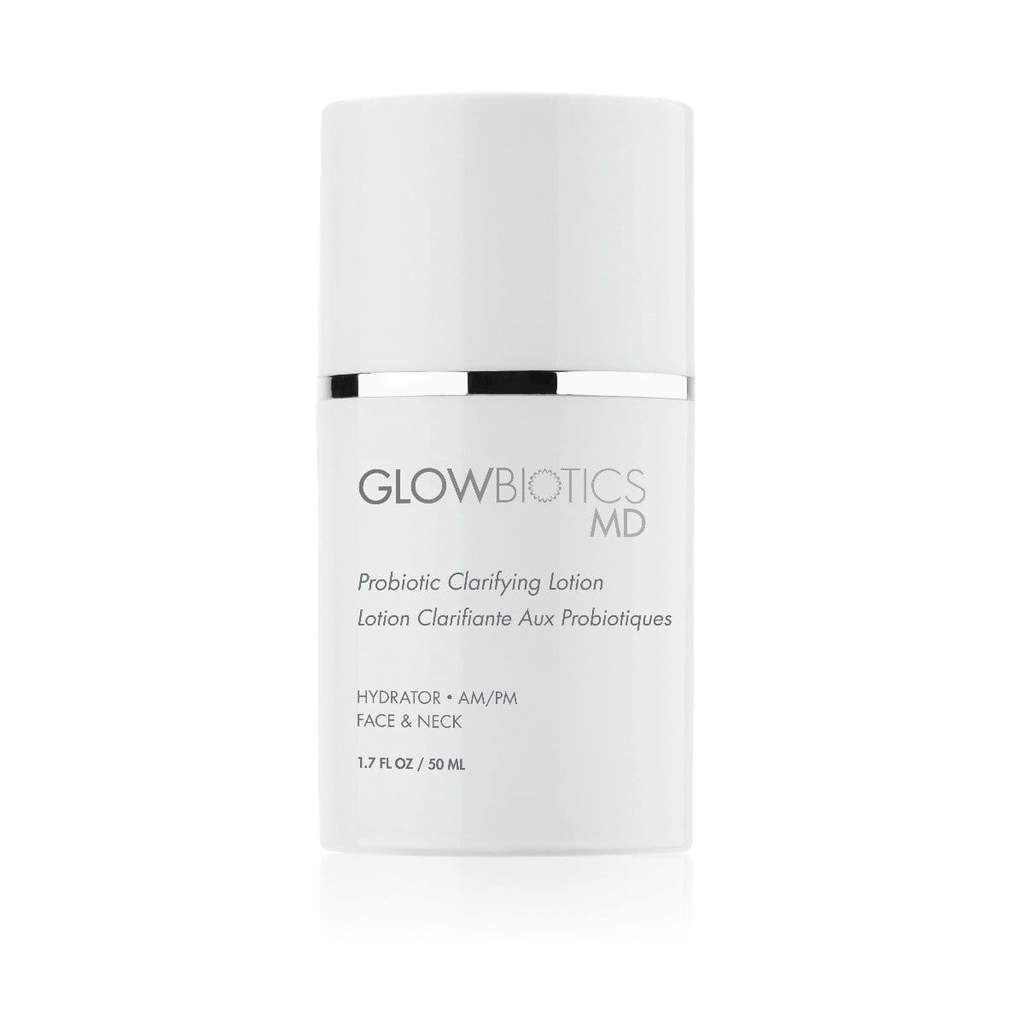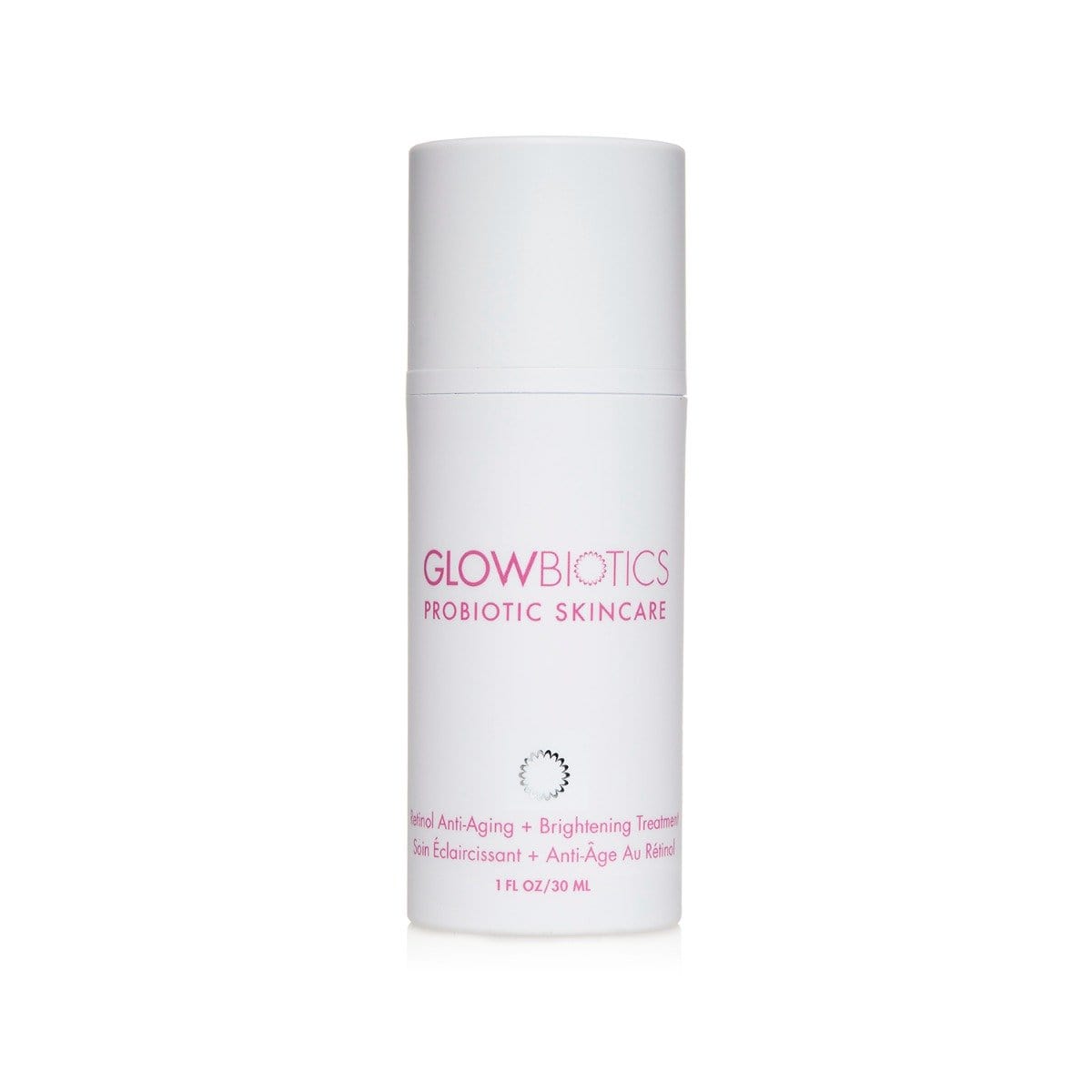 Collapsible content
Learn More

Polycystic Ovary Syndrome (PCOS) can cause noticeable distressing features on skin. This condition can lead to excessive oil production, deep acne, discoloration and rough skin texture.

This PCOS skin care will provide an amazing benefit for even the worst skin symptoms of Polycystic Ovary Syndrome. Shop Glowbiotics and find the best PCOS face wash for your skin today!
Skin Types and Concerns

Skin Types: Dry Skin, Normal Skin, Oily Skin, Combination Skin, and Sensitive Skin

Skin Concerns: Acne Prone, Hormonal Acne, Hormonally Challenged, Post Pregnancy, Polycystic Ovary Syndrome, Pregnancy, Estrogen Depletion, Excessive Dryness, Fine Lines and Wrinkles, Sun Damaged, and Sagging Skin
How to Use

Retinol Anti-Aging + Brightening Treatment
Use PM. Apply a thin layer to clean, dry skin. Avoid eye area. Daily use of sunscreen is recommended.

Caution: Do not use if pregnant or breastfeeding. Use caution if also taking supplements or using other products containing vitamin A. Avoid contact with eyes, if contact occurs rinse eyes thoroughly. If irritation persists, seek medical attention.

Probiotic Clarifying Lotion
Use AM/PM. Apply generously to face and neck.
Ingredients

Key Ingredients

Gentle Probiotic Calming Lotion

Beta-Glucan: Derived from oat; anti-irritant and skin soothing agent, provides rapid relief from minor skin irritations. Helps to stimulate collagen; is anti-aging and helps with UVA protection. Beneficial for all skin types. This ingredient specifically enhances the probiotic activity.
Safflower Oil: Helps maintain elasticity in the skin; has a high amount of ceramides compared to other natural oils; does not clog pores
Myristoyl Nonapeptide-3: Smart Biomimetic Peptide 189 is time released to work when the skin needs it and "turns on" the genes which produce the enzyme responsible for the conversion of Retinol and other retinoids into Retinoic acid without causing skin irritation. Targets fine lines and wrinkles.
Hyaluronic Acid: A moisturizing ingredient (humectant) known to provide smoothness and softness, promotes growth of new skin cells and supports wound healing in the skin. Acts as a "water magnet" and has excellent anti-wrinkle effects
Niacinamide: Also known as Vitamin B3, improves skin structure for fewer wrinkles, provides a multi-functional attack on hyperpigmentation, helps stop water loss for better hydration, sebum regulating and anti-inflammatory.
Phospholipids: Unique skin identical lipids that help to condition, nourish, hydrate and strengthen the skin's natural barrier (protective) function. Also helps to shuttle ingredients into deeper layers of the skin.
Probiotics: Non-living molecules of body friendly bacteria, act as a protective shield and strengthen the skin's ability to repair itself while reducing inflammation.
Shea Butter: Protects skin from dehydration, helps improve appearance of irritated dry skin as it restores suppleness and increases hydration.
Bisabolobl: Acts as an anti-irritant and promotes the skin's healing process. Helps to restore suppleness and improves the appearance of damaged skin. Helps fight the signs of aging with antioxidant benefits and helps fight bad bacteria.
Vitamin E: An antioxidant that helps fight free radicals which can cause damage and premature aging in the skin.

Retinol Anti-Aging + Brightening Treatment

Glowbiotics Balancing Complex: Balancing Complex is a powerful blend of topical probiotics and antioxidants designed to help balance and restore aging, stressed skin while imparting a tightening effect.

SymGlucan (Beta-Glucan) helps reduce visible signs of aging, stimulate fibroblast growth and collagen synthesis while providing immediate comfort and moisture that improves firmness and elasticity of skin as well as protects cells against UV radiation.
Superox-C (Terminalia Ferdinandiana Fruit Extract) extracted from the Kakadu Plum, the richest form of vitamin C (super fruit), helps visibly reduce wrinkles, boosts luminosity and energize dull looking skin while reducing the appearance of redness and improving overall skin tone.
ProRenew (Lactococcus Ferment Lysate) a probiotic that stimulates the skin's renewal process, accelerating it and improving its quality.

Pigment Balancing Complex: Pigment Balancing Complex is a powerful combination of botanicals, vitamins and photo-protective actives that helps reduce the appearance of unwanted pigmentation as it brightens and improves overall clarity.

Niacinamide (4%) is an effective skin restoring ingredient that helps visibly improve the appearance of enlarged pores, uneven skin tone, fine lines, dullness and a weakened skin surface.
Synovea HR (Hexylresorcinol) helps defend the skin against oxidative stress stress while stimulating an antioxidant defense system, preventing UV-induced DNA change.
Actiwhite (Pisum Sativum (Pea) Extract, Sucrose Dilaurate) offers visible skin brightening effects while reducing age spots and improving overall skin evenness.

Bioactive Retinoid Complex: Bioactive Retinoid Complex is an enhanced, highly bioavailable retinoid blended with performance enhancing peptides that allows for maximum renewal potential without triggering the sensitivity, dryness and flakiness that is often associated with typical retinoids.

Granactive Retinoid 1% (Dimethyl Isosorbide, Hydroxypinacolone Retinoate) is the most bio-available vitamin A that decreases the effects of UV induced skin damage and helps clear acne related symptoms.
Retinol (.5%) is a vitamin A derivative that helps boost collagen production, reducing wrinkles and preventing fine lines. It also speeds cell turnover, evening out discoloration, brightening skin tone and unclogs pores, making them look smaller and reducing acne.
Bakuchiol (.5%) is a natural alternative to retinol. It is a collagen stimulator and provides hydration to reduce multiple signs of aging, roughness and dryness as well as fie lines and wrinkles. Improves skin tone, elasticity, firmness, radiance and brightness.

Full Ingredients:

Gentle Probiotic Calming Lotion

Water/Aqua/Eau, Caprylic/Capric Triglyceride, Glycerin, Cetearyl Alcohol, Niacinamide, Dimethicone, Lactococcus Ferment Lysate, Sodium Hyaluronate, Beta Glucan, Camellia Sinensis Leaf Extract, Aloe Bardadensis (Aloe) Leaf, Xanthan Gum, Ammonium Acryloyldimethyltaurate/VP Copolymer, Myristoyl Nonapeptide-3, Pentylene Glycol, Panthenol, Chamomilla Recutita (Matricaria) Flower Extract, Myristoyl Tetrapeptide-13, Butylene Glycol, Phospholipids, Propanediol, Potassium Cetyl Phosphate, Butyrospermum Parkii (Shea) Butter, Tocopheryl Acetate, Bisabolol, Carthamus Tinctorius (Safflower) Seed Oil, Squalene, Phenoxyethanol, Caprylyl Glycol

Retinol Anti-Aging + Brightening Treatment

Aqua (Water), Glycerin, Niacinamide, Pentylene Glycol, Lactococcus Ferment Extract, Carthamus Tinctorius Oleosomes, Cetearyl Olivate, Potassium Cetyl Phosphate, Behenyl Alcohol, Sorbitan Olivate, Glyceryl Cocoate, Hexylresorcinol, Lauryl Lactate, Cetearyl Alcohol, Jojoba Esters, Maltodextrin, Caprylic/Capric Triglyceride, Ethylhexyl Palmitate, Retinol, 1,2-Hexanediol, Acacia Decurrens Flower Wax, Bakuchiol, Beta-Glucan, Caprylhydroxamic Acid, Caprylyl Glycol, Cetyl Alcohol, Dimethyl Isosorbide, Disodium EDTA, Gluconolactone, Glyceryl Caprylate, Helianthus Annuus (Sunflower) Seed Wax, Hydroxyethylcellulose, Hydroxypinacolone Retinoate, Lactic Acid, Myristoyl Nonapeptide-3, Pisum Sativum Extract, Polyglycerin-3,Sodium Acetate, Sodium Benzoate, Sodium Carbonate, Sodium Chloride, Sodium Cocoyl Glutamate, Sodium Hydroxide, Sucrose Dilaurate, Terminalia Chebula Fruit Extract, Terminalia Ferdinandiana Fruit Extract, Xanthan Gum, Cellulose, Isopropyl Alcohol.
Reviews & Questions

Best duo to happen to my skin!

It's been so difficult to find products that work with my PCOS skin that do not dry it out or overly destructive va helpful. This duo has made my skin come to life - it's heathy looking, acne free and finally helps with my oily skin.

3 month trial

My 19 year old daughter is giving this a 3 month trial. She has been diagnosed with PCOS and has tried many products and professional facials over the years. We are hoping this will be a breakthrough for her.

Good for Stubborn Acne

I started using this set about 2 months ago and can definitely tell it has helped reduce my acne. The daytime lotion visibly reduces redness as soon as I put it on and the nighttime lotion is very nourishing. My acne hasn't gone away completely but I can tell the set helps.

AWESOME

These two items are the best. The clarifying moisturizer really helps clarify. And the retinol is perfect strength.

Will never go back

This duo is perfect for my PCOS acne. I feel spoiled having products specifically made for my problem skin...but I'll take it!
My skin loves glowbiotics.
Yes it's pricey, but worth it! They smell marvelous. Such wonderful products.