Get up and GLOW
Regular price
$191.00
Sale price
$149.00
Unit price
per
Sale
Sold out
Reveal Radiant Skin: Advanced Vitamin C Brightening Serum reduces pigmentation, defends against free radicals, and revitalizes your complexion for a natural glow.
Glow Your Way: Choose HydraGlow in Bronze or Pink for a radiant glow.
Versatile and free of harmful ingredients.
Effortless Beauty: Simplify your morning routine, skip makeup, and step out confidently with nourished, glowing skin. Get up and glow in a hurry!
Share
View full details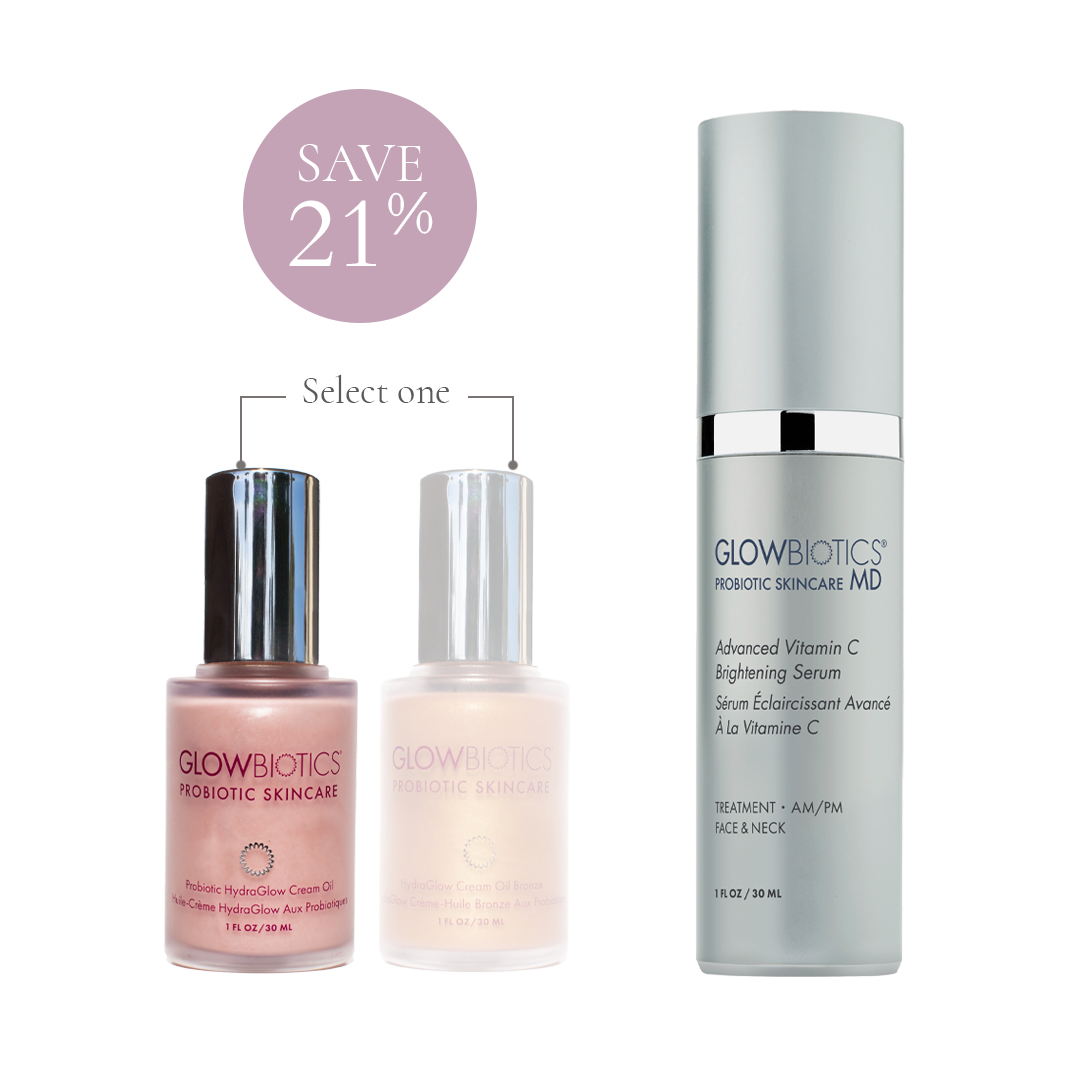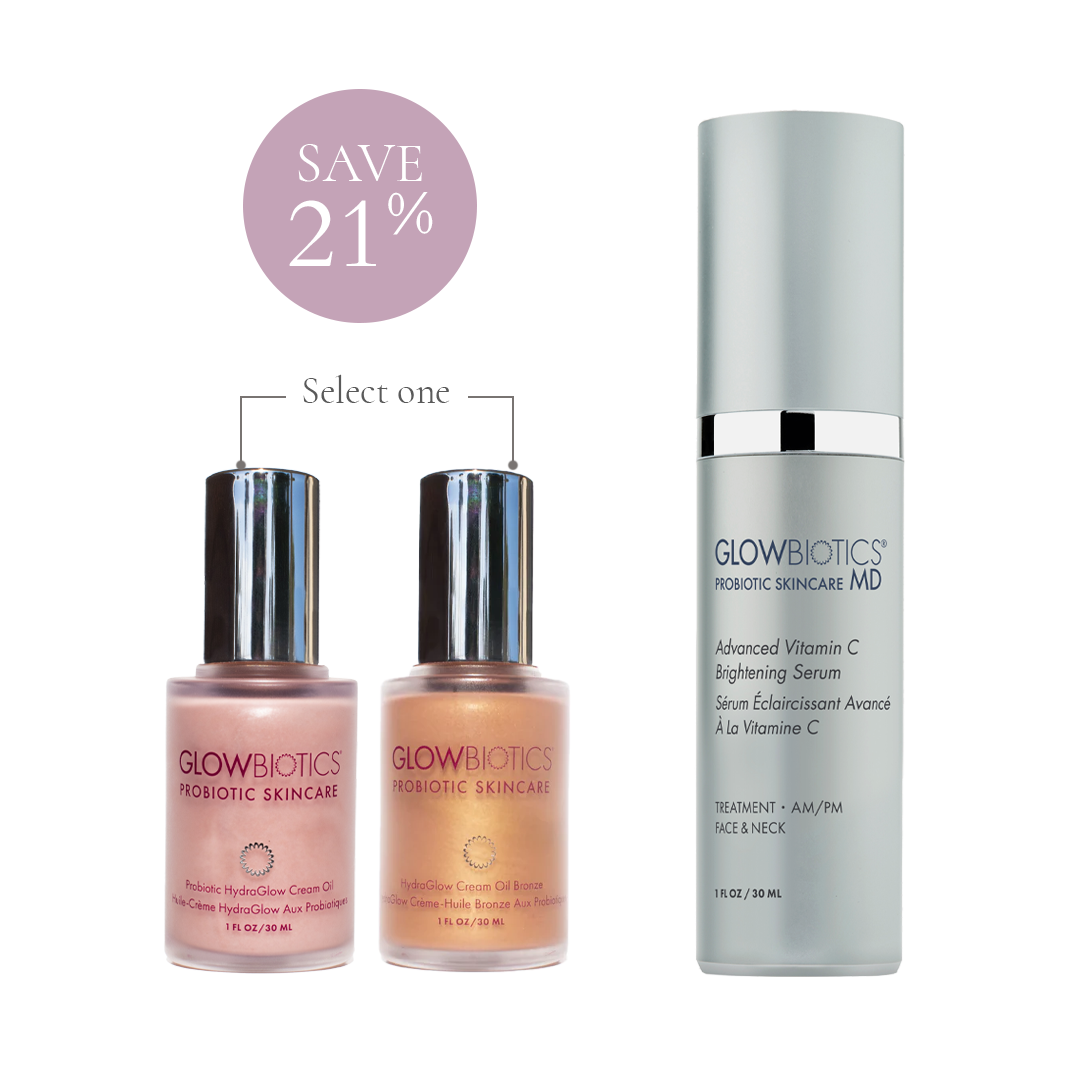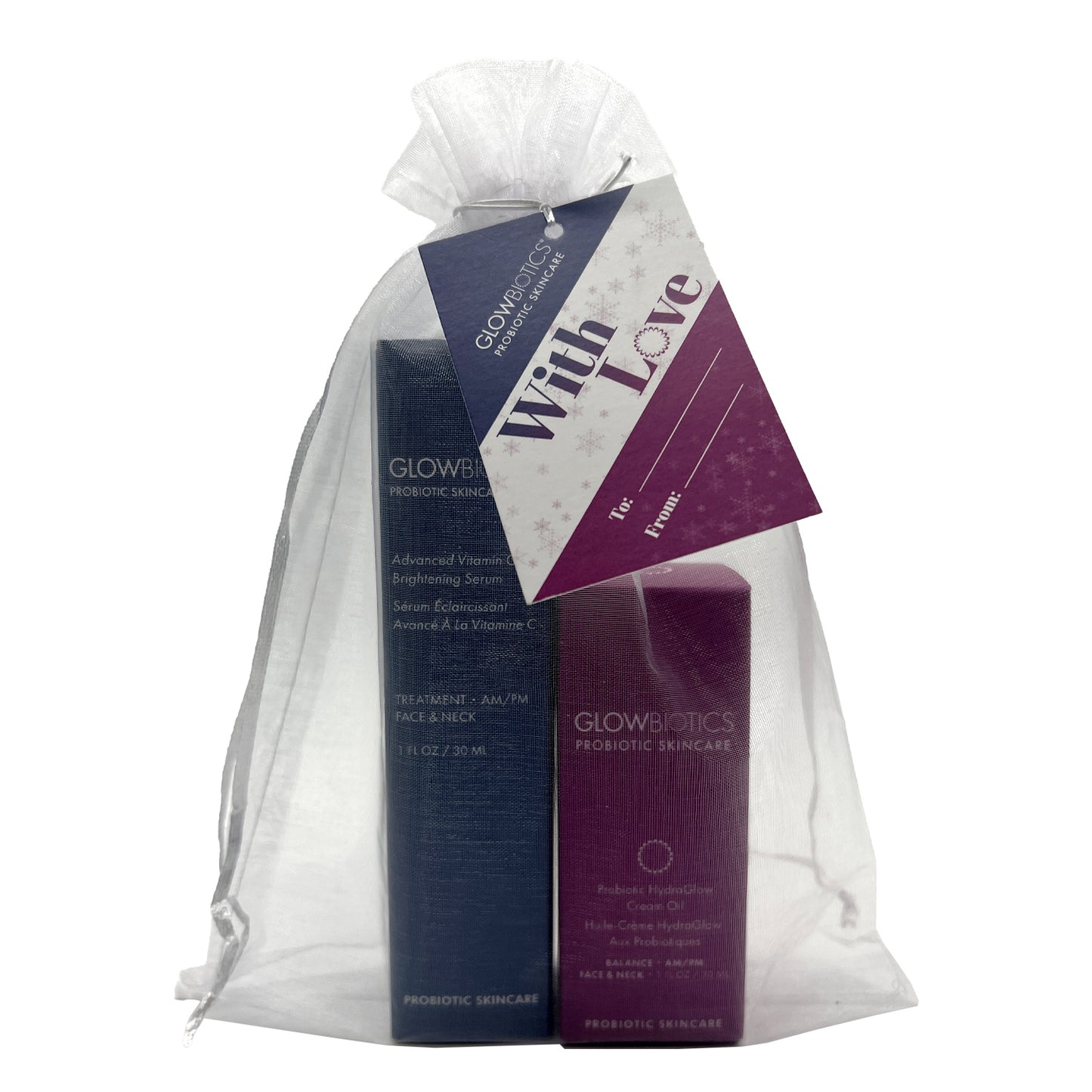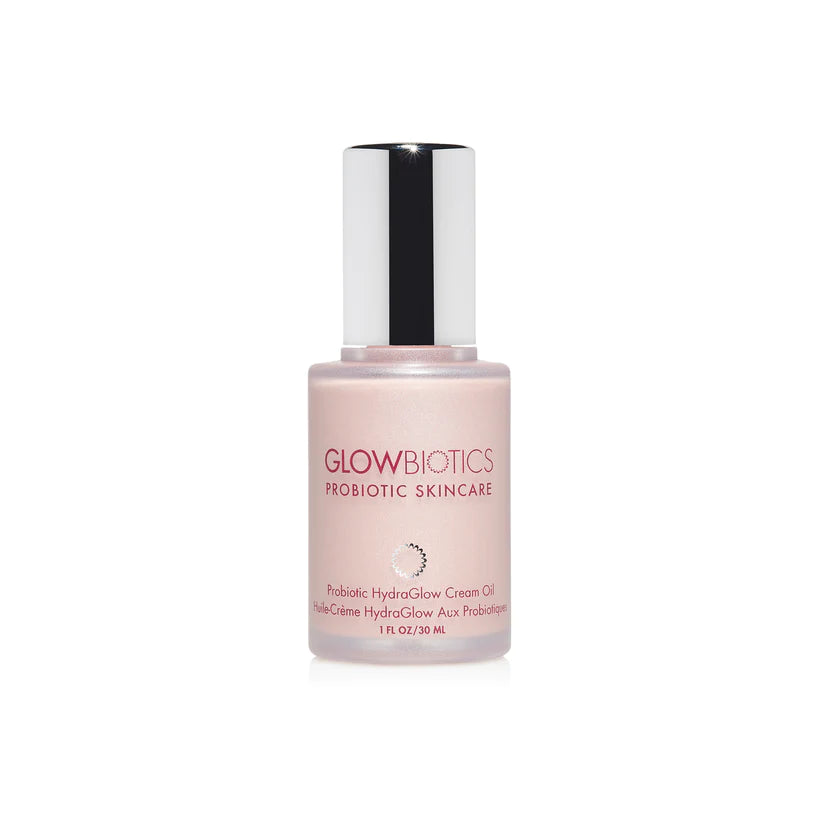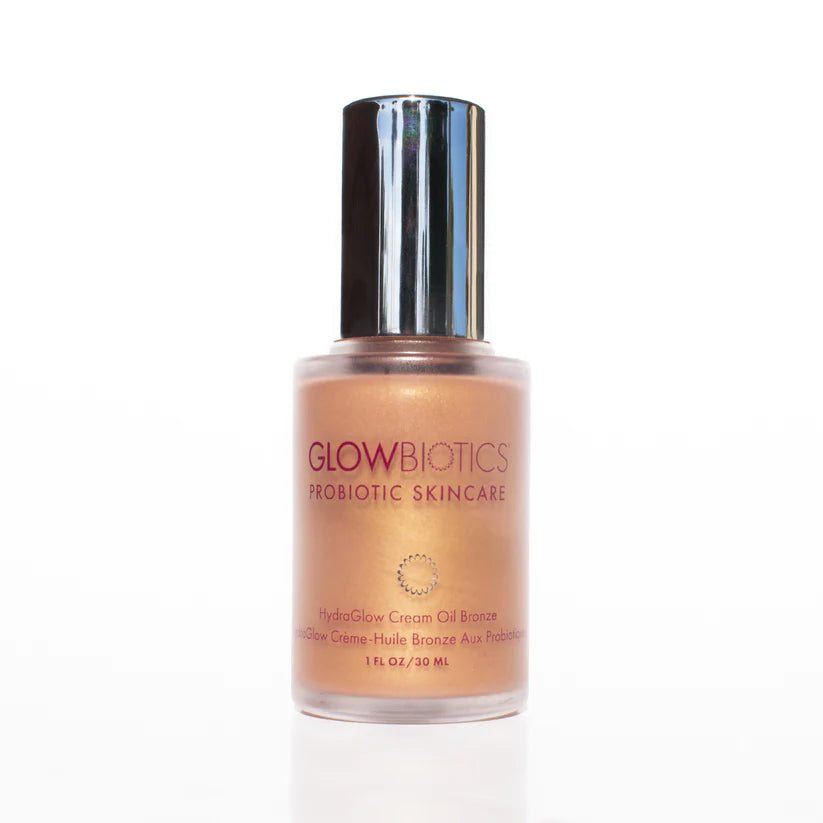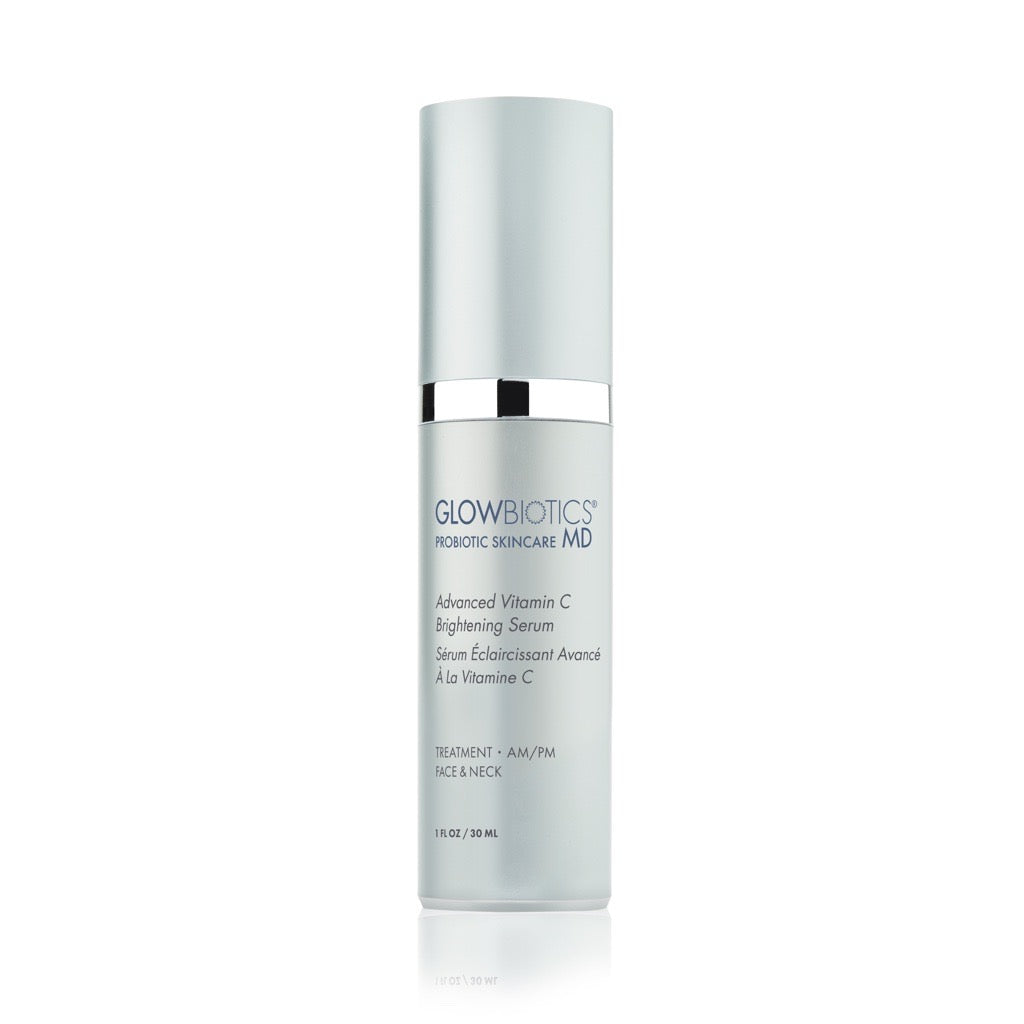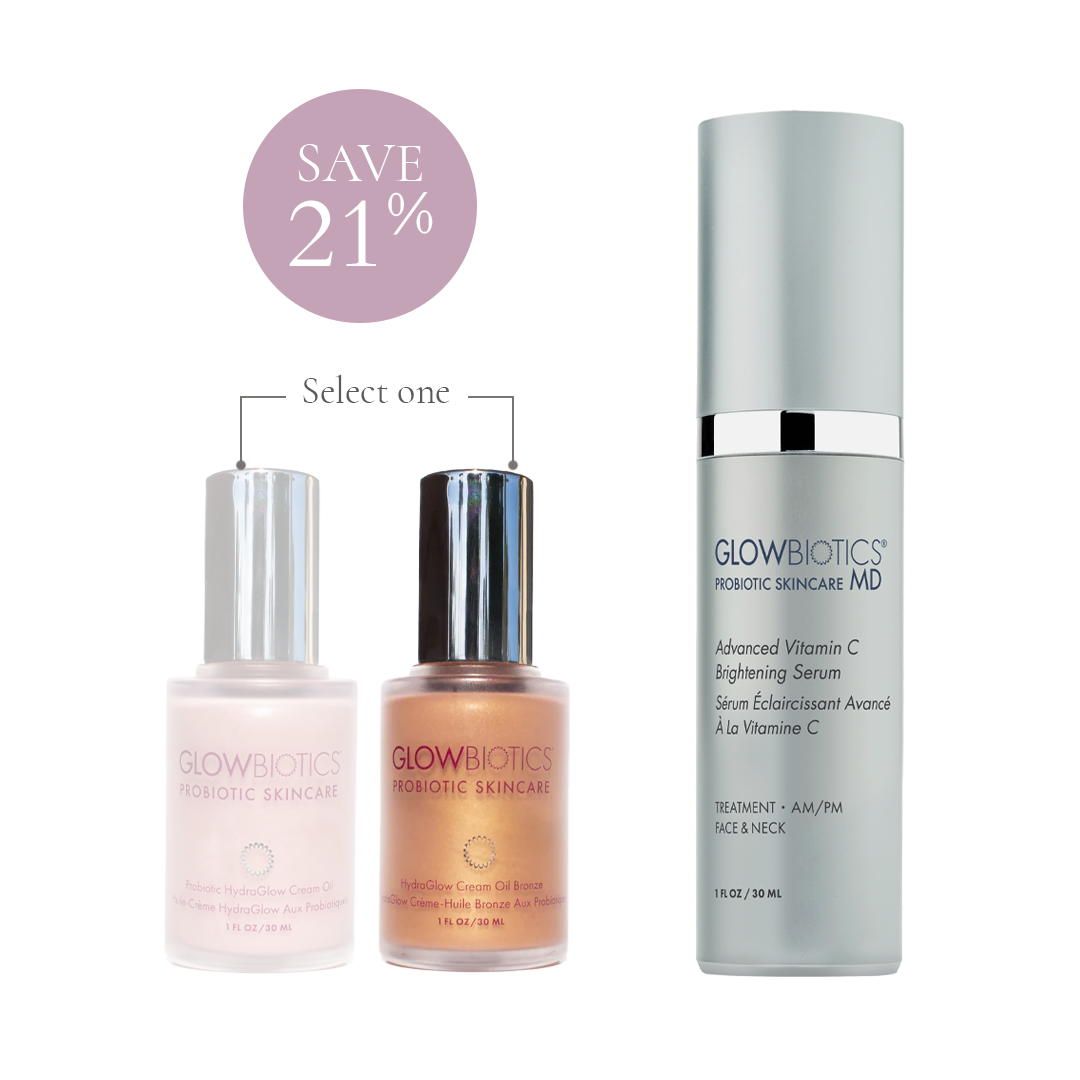 Collapsible content
Learn More

Discover the Get Up and Glow Holiday Kit! Revitalize with our Vitamin C Serum, combating pigmentation and enhancing radiance. Choose Pink for hydration or Bronze for a luminous, alluring look. Simplify your routine, skip makeup, and embrace confidence. Your skin's natural glow, ready in seconds!
Skin Types and Concerns

Skin Types: Dry Skin, Normal Skin, Sensitive Skin, and Combination Skin

Skin Concerns: Estrogen Depletion, Excessive Dryness, Fine Lines and Wrinkles, Pregnancy, Sagging Skin, and Sun Damaged
How to Use

Advanced Vitamin-C Brightening Serum

Use AM/PM. Apply a thin layer to clean, dry skin. Daily use of sunscreen is recommended.

Probiotic HydraGlow Cream Oil

AM/PM: For all skin types apply to face and neck area. As you twist the silver cap open, the formula is automatically drawn in to the pipet. Simply push the silver button on the cap to dispense the perfect amount.

For a natural no make-up look, use after cleansing
For boosted hydration, mix with moisturizers
Can be used under or mixed with foundation for added luminosity
Can be used as a highlighter for extra glow

Probiotic HydraGlow Cream Oil Bronze

AM/PM: For all skin types apply to face and neck area. As you twist the silver cap open, the formula is automatically drawn in to the pipet. Simply push the silver button on the cap to dispense the perfect amount.

For a natural no make-up look, use after cleansing
For boosted hydration, mix with moisturizers
Can be used under or mixed with foundation for added luminosity
Ingredients

Key Ingredients

Advanced Vitamin-C Brightening Serum

Probiotics: Non-living molecules of body friendly bacteria, act as a protective shield and strengthen the skin's ability to repair itself while reducing inflammation.
Magnesuim Ascorbyl Phosphate: A highly stable derivative of Vitamin C, this non-irritating and water-soluble antioxidant can boost collagen fusion at significantly lower concentrations than L-Ascorbic Acid.
Ascorbyl Glucoside: A highly stable and bioavailable form of vitamin C. Increases collagen synthesis and decreases melanin formation
Sodium Hyaluronate: A molecule that draws moisture to the skin; imparts a plumping effect to lines and wrinkles.
Bearberry Leaf Extract: A powerful astringent which provides an antiseptic and anti-inflammatory effect on skin cells.
SymCalmin®: Very active ingredient displaying anti-itch and anti-inflammatory characteristics and is highly effective for reducing skin redness and irritation.
*SymCalmin® is a registered trademark of Symrise AG

Probiotic HydraGlow Cream Oil

Balancing Complex - Balancing Complex is a powerful blend of topical probiotics and antioxidants designed to help balance and restore stressed skin while imparting a tightening effect.

Superox-C (Termanilia Ferdinandiana Fruit Extract) extracted from the Kakadu Plum, the richest form of vitamin C (superfruit), helps visibly reduce wrinkles, boosts luminosity and energize dull looking skin while reducing the appearance of redness and improving overall skin tone.
SymGlucan (Beta-Glucan) helps reduce visible signs of aging, stimulate fibroblast growth and collagen synthesis while providing immediate comfort and moisture that improves firmness and elasticity of skin as well as protects cells against UV radiation.
ProRenew (Lactococcus Ferment Lysate) is a probiotic that stimulates the skin's renewal process, accelerating it and improving its quality.

Reflective Mineral Complex - Reflective Mineral Complex is an infusion of minerals that diffuses light and helps provide a bright, shimmering appearance to the skin.

Mica naturally occurs in the earth and provides a natural looking glow while being non-irritating and calming.
Titanium Dioxide offers gentle protection to the eye area without causing stinging.
Iron Oxide enhances the skin's appearance while evening skin tone.

Shea Butter - Butyrospermum Parkii (Shea) Butter helps preserve the lipid barrier of the skin and also helps hydrate, soften and soothe.

Abyssinian Seed Oil - Crambe Abyssinica Seed Oil is a plant-based, skin friendly oil, high in Omega-9 unsaturated fatty acids; helps combat oxidative stress and promotes a healthier skin tone and texture.

Indufence - Indufence (Alisma Plantago Aquatica Extract) is rich in purified alisma peptides that activate and optimize the skin's natural immune functions similar to that of a probiotic without causing inflammation.

Hyaluronic Acid - A moisturizing ingredient (humectant) known to provide smoothness and softness, promotes growth of new skin cells and supports wound healing in the skin. Acts as a "water magnet" and has excellent anti-wrinkle effects.

Probiotic HydraGlow Cream Oil Bronze

Balancing Complex - Balancing Complex is a powerful blend of topical probiotics and antioxidants designed to help balance and restore stressed skin while imparting a tightening effect.

Superox-C (Termanilia Ferdinandiana Fruit Extract) extracted from the Kakadu Plum, the richest form of vitamin C (superfruit), helps visibly reduce wrinkles, boosts luminosity and energize dull looking skin while reducing the appearance of redness and improving overall skin tone.
SymGlucan (Beta-Glucan) helps reduce visible signs of aging, stimulate fibroblast growth and collagen synthesis while providing immediate comfort and moisture that improves firmness and elasticity of skin as well as protects cells against UV radiation.
ProRenew (Lactococcus Ferment Lysate) is a probiotic that stimulates the skin's renewal process, accelerating it and improving its quality.

Reflective Mineral Complex - Reflective Mineral Complex is an infusion of minerals that diffuses light and helps provide a bright, shimmering appearance to the skin.

Mica naturally occurs in the earth and provides a natural looking glow while being non-irritating and calming.
Titanium Dioxide offers gentle protection to the eye area without causing stinging.
Iron Oxide enhances the skin's appearance while evening skin tone.

Shea Butter - Butyrospermum Parkii (Shea) Butter helps preserve the lipid barrier of the skin and also helps hydrate, soften and soothe.

Abyssinian Seed Oil - Crambe Abyssinica Seed Oil is a plant-based, skin friendly oil, high in Omega-9 unsaturated fatty acids; helps combat oxidative stress and promotes a healthier skin tone and texture.

Indufence - Indufence (Alisma Plantago Aquatica Extract) is rich in purified alisma peptides that activate and optimize the skin's natural immune functions similar to that of a probiotic without causing inflammation.

Hyaluronic Acid - A moisturizing ingredient (humectant) known to provide smoothness and softness, promotes growth of new skin cells and supports wound healing in the skin. Acts as a "water magnet" and has excellent anti-wrinkle effects.

Full Ingredients:

Advanced Vitamin-C Brightening Serum

Water, Magnesium Ascorbyl Phosphate, Ascorbyl Glucoside, Glycerin, Lactococcus Ferment Lysate, Arctostaphylos Uva Ursi Leaf (Bearberry) Extract, Hydroxyphenyl Propamidobenzoic Acid, Sodium Hyaluronate, Pentylene Glycol, Disodium EDTA, Hydroxyethyl Cellulose, Sodium Citrate, 1,2-Hexanediol, Caprylyl Glycol, Butylene Glycol

Probiotic HydraGlow Cream Oil

WATER (AQUA), GLYCERIN, SHEA BUTTER ETHYL ESTERS, DIHEPTYL SUCCINATE, CAPRYLIC/CAPRIC TRIGLYCERIDE, CAPRYLOYL GLYCERIN/SEBACIC ACID COPOLYMER, CRAMBE ABYSSINICA SEED OIL, PROPANEDIOL, LACTOCOCCUS FERMENT LYSATE, SUCROSE STEARATE, SUCROSE LAURATE, SYNTHETIC FLUORPHLOGOPITE CARBOMER, SODIUM BENZOATE, TITANIUM DIOXIDE (CI 77891), POTASSIUM SORBATE, MICA (CI 77019), TOCOPHERYL ACETATE, SODIUM HYALURONATE, ALISMA PLANTAGO-AQUATICA EXTRACT, IRON OXIDES (CI 77491), SODIUM PHYTATE, SODIUM HYDROXIDE, TERMINALIA FERDINANDIANA FRUIT EXTRACT, SUCROSE PALMITATE, LACTIC ACID, 1,2-HEXANEDIOL, BETA-GLUCAN, CAPRYLYL GLYCOL, SODIUM CHLORIDE, TIN OXIDE (CI 77861), CITRIC ACID,

Probiotic HydraGlow Cream Oil Bronze

Water (Aqua), Glycerin, Shea Butter Ethyl Esters, Diheptyl Succinate, Caprylic/capric Triglyceride, Capryloyl Glycerin/sebacic Acid, Copolymer, Crambe Abyssinica Seed Oil, Propanediol, Lactococcus Ferment Lysate, Sucrose Stearate, Mica (Ci 77019), Sucrose Laurate, Iron Oxides (Ci 77491), Titanium Dioxide (Ci 77891), Carbomer, Sodium Benzoate, Potassium Sorbate, Tocopheryl Acetate, Sodium Hyaluronate, Alisma Plantago-aquatica Extract, Sodium Phytate, Sodium Hydroxide, Citric Acid, Terminalia Ferdinandiana Fruit Extract, Sucrose Palmitate, Lactic Acid, 1,2-hexanediol, Beta-glucan, Caprylyl Glycol, Sodium Chloride
Reviews & Questions