Probiotic Revitalizing Cleanser 5 oz
Regular price
Sale price
$36.00
Unit price
per
Sale
Sold out
Effectively removes surface impurities including dirt, makeup and oil without stripping the skin
Soothes and calms redness while leaving skin feeling soft and smooth
Adds radiance and vitality back to dry, dull, aging skin
Firms, brightens and hydrates all skin types
Share
View full details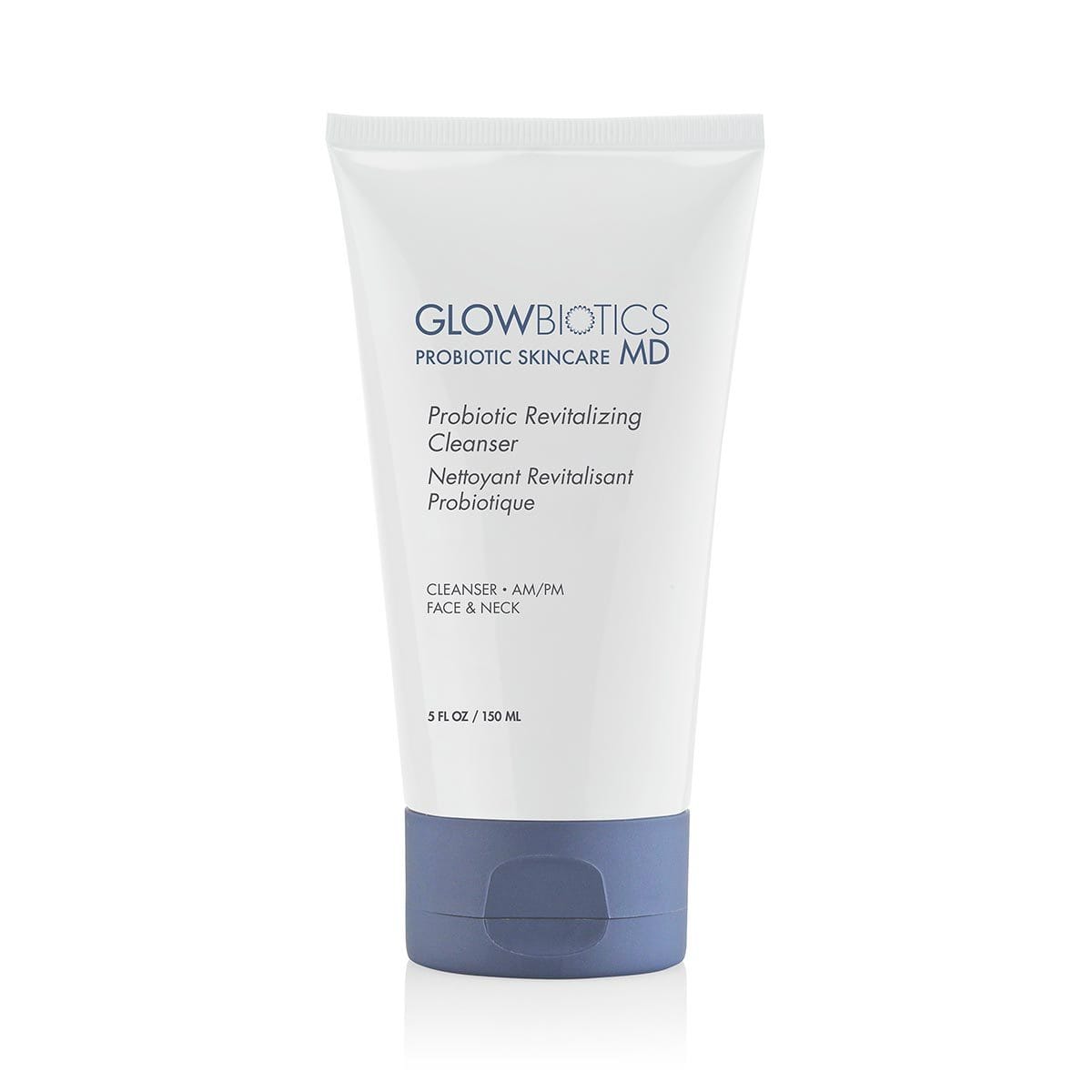 Collapsible content
Learn More

This gentle probiotic cleanser is designed for all skin types to remove impurities like dirt, makeup and excess oils all while maintaining the skin's natural protective barrier. This is the perfect cleanser for sensitive skin. The prebiotic and probiotic blend also hydrates and improves the balance of the good bacteria on the skin to promote more healthy skin harmony and restore natural skin functions. Our sulfate free face wash ensures you are using only the best products on your skin, so you are healthy and glowing all day long.
Skin Types and Concerns

Skin Types: Dry Skin, Sensitive Skin, Normal Skin, Teen Skin, and Combination Skin

Skin Concerns: Estrogen Depletion, Polycystic Ovary Syndrome, Fine Lines and Wrinkles, Post Pregnancy, Pregnancy, Thyroid Fluctuations, and Sun Damaged
How to Use

Use AM/PM. Apply to wet hands and rub together. Gently massage onto face and neck with circular motions. Rinse well.
Ingredients

Key Ingredients

Probiotics: Non-living molecules of body friendly bacteria, act as a protective shield and strengthen the skin's ability to repair itself while reducing inflammation.
Smart Peptide 189: Exclusive Smart Biomimetic Peptide is time released to work when the skin needs it and "turns on" the genes which produce the enzyme responsible for the conversion of GDR, Retinol and other retinoids into Retinoic acid.
Aloe Vera: Soothing and calming properties for the skin.
Beta-Glucan: Derived from oat; anti-irritant and skin soothing agent, provides rapid relief from minor skin irritations. Helps to stimulate collagen; is anti-aging and helps with UVA protection. Beneficial for all skin types. This ingredient specifically enhances the probiotic activity.
Lauric Acid: Derived from coconut oil; this fatty acid has anti-microbial properties; helps skin retain moisture and softness.
Lime Juice: Antioxidant; helps rejuvenate and exfoliate dead skin cells; contains a large amount of vitamin C and Flavonoids.
Safflower Acid: A natural moisturizing agent that helps maintain the elasticity of the skin. Contains a high amount of vitamin E.
Vitamin E: An antioxidant that helps fight free radicals which can cause damage and premature aging in the skin.

Full Ingredients:

Water/Aqua/Eau, Sodium Cocoyl Glutamate,Coco-Betaine, Guar Hydroxypropyltrimonium Chloride, Aloe Barbadensis Leaf Juice, Citric Acid, Glyceryl Laurate, Lauric Acid, Safflower Acid, Sodium Benzoate, Lactobacillus/Saccharomyces/Rice/Sucrose Ferment Filtrate, Myristoyl Nonapeptide-3, Beta-Glucan, Tocopheryl Acetate, Citrus Aurantifolia (Lime) Juice, Sucrose Cocoate, Potassium Hydroxide, Coconut Acids, Fragrance.
Reviews & Questions

Squeaky clean!

I use this cleanser with a handheld scrubber. My face feels so clean and smoother after each use! This will be my fourth tube!

luxurious and effective

I started using glowbiotics after my aesthetician recommended this indie brand. I love how clean, moisturized and youthfulbthis product makes my skin look and feel. my teen boys now use it as well and their skin has cleared up.

Love it!

Absolutely love this cleanser it smells so amazing and is so gentle on the skin. I also love how thick it is reminds me of how Devine it truly is

The best cleanser ever!

I have been using it now for almost ten years. It is the best!

Amazing product!

I've had issues with hormonal acne for years and this seems to be the only gentle face wash that keeps it under control. I'm so happy to be a forever customer !