Probiotic Acne Treatment Cleanser 5 oz
Regular price
Sale price
$36.00
Unit price
per
Sale
Sold out
Effectively remove surface impurities including dirt, makeup and excess oil and heavy sunscreen
Soothes irritation, inflammation and redness, kills acne causing bacteria
Leaves skin feeling soft and hydrated instead of tight and dry like other acne cleansers
Suitable for use on the body
Share
View full details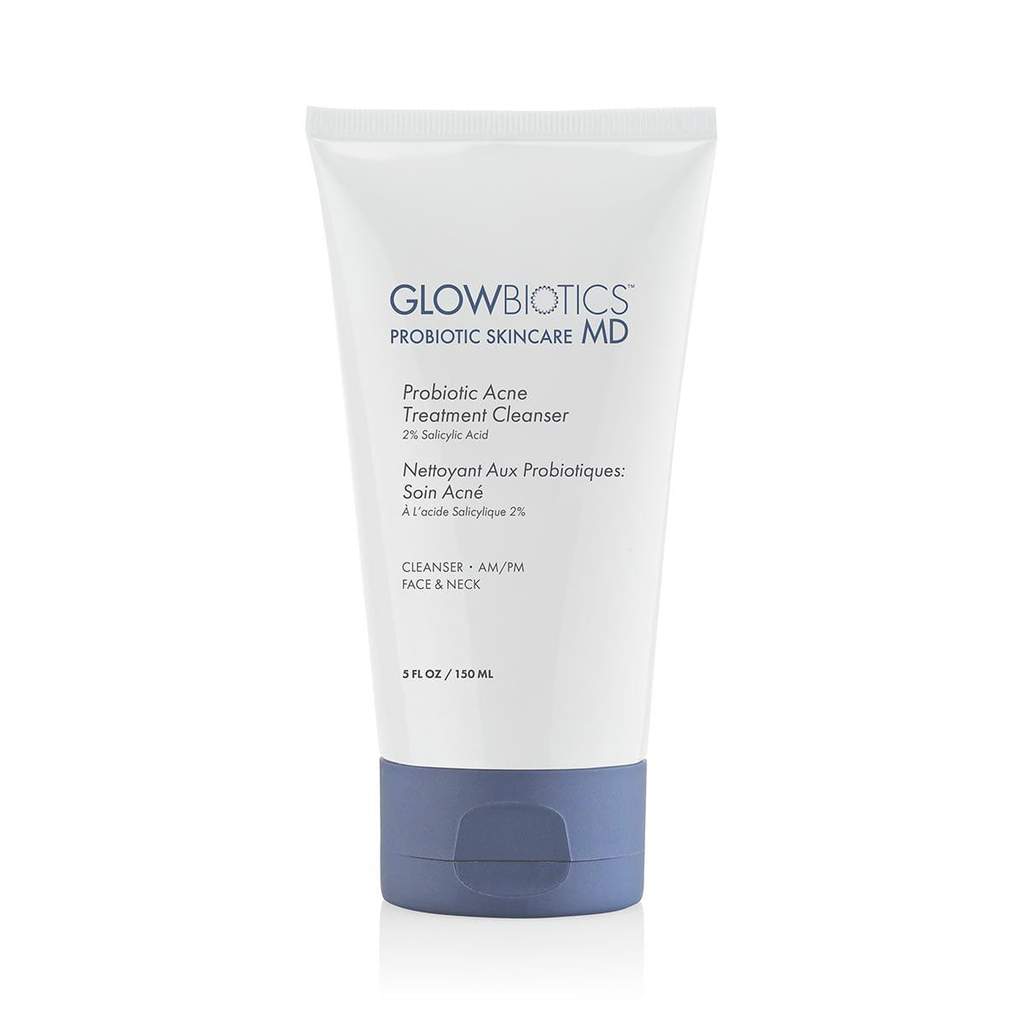 Collapsible content
Learn More

Fight acne breakouts at the source with this powerful probiotic and prebiotic acne cleanser formulated to soothe acne-plagued skin and eliminating acne-causing bacteria. This sulfate-free and paraben-free treatment gently removes dirt, makeup, and impurities. GLOWBIOTICS Acne Treatment Cleanser clears away excess oil without drying your skin.
Skin Types and Concerns

Skin Types: Oily Skin, Combination Skin, and Teen Skin

Skin Concerns: Acne Prone, Hormonal Acne, Post Pregnancy, Pregnancy, and Shaving Issues
How to Use

Use AM/PM. Apply to wet hands and rub together. Gently massage onto face and neck with circular motions. Rinse well.
Ingredients

Key Ingredients

Probiotics: Non-living molecules of body friendly bacteria, act as a protective shield and strengthen the skin's ability to repair itself while reducing inflammation.
Beta-Glucan: Derived from oat; anti-irritant and skin soothing agent, provides rapid relief from minor skin irritations. Helps to stimulate collagen; is anti-aging and helps with UVA protection. Beneficial for all skin types. This ingredient specifically enhances the probiotic activity.
Dragocalm®: A natural anti-irritant with anti-histaminic properties. Helps protect against redness, itching and reduces side effect potentials of ingredient which may be irritating.
*Dragocalm® is a registered trademark of Symrise AG
Eucalyptus Oil: Offers antiseptic and anti-microbial properties
Menthol: Cools and refreshes the skin
2% Salicylic Acid: A multifunctional exfoliant helps unclog pores and is an anti-irritant, anti-inflammatory beta-hydroxy acid (BHA) proven to treat oily and problematic skin conditions such as blackheads and acne.
Smart Peptide 13 + Chelasyn® Complex: Exclusive Smart Biomimetic Peptide is time released to work when the skin needs it and "turns on" the genes that stimulate and enhance the production and performance of antibacterial activities to stop the growth of P. acnes bacteria.
*Chelasyn® is a registered trademark of Therapeutic Peptides, inc.
SymRelief®: A powerful anti-irritant which reduces redness and swelling. Minimizes chronic inflammation and improves activities of natural moisturizing factors (NMF).
*SymRelief® is a registered trademark of Symrise AG

Full Ingredients:

Water/Aqua/Eau, Disodium Laureth Sulfosuccinate, Sodium Cocoyl Isethionate, Sodium Lauroamphoacetate, Glycerin, Sodium Methyl Cocoyl Taurate, Methylisothiazolinone, Cocamidopropyl Betaine, Bisabolol, Zingiber Officianale (Ginger) Root Extract, Rice/Saccharomyces Lyce/Lactobacillus Ferment Lysate Filtrate, Oat (Avena Sativa) Kernel Extract, Disodium EDTA, Beta-Glucan, Eucalyptus Globulus Oil, Xanthan Gum, Menthol, Myristoyl Tetrapeptde-13, Acetyl Carboxymethyl Cocoyl Glycine, Phenoxyethanol, Caprylyl Glycol.
Reviews & Questions

Just right

I love Glowbiotics! I have PCOS and super oily skin AND am acne prone at almost 40 years old. This cleanser helps keep my oily skin balanced and feeling soft after use. I've even let my teenage daughter begin using it. I could tell the difference after just 2 washes!

Clear skin!

I have had acne most of my pre teen through adult life… I start using a product my face become immune and it stops working. Since using glowbiotics
I have only had small blemishes and they heal and disappear really quickly. I enjoy the minty smell of the cleanser and the feel of it on my skin cleans and doesn't strip your skin but leaves in refreshed. Note it doesn't lather alot which I don't mind.

Amazing product

This cleanser is everything. I have hormonal acne and my skin has been clear six e using this cleanser. Highly recommended.

Acne cleanser

Acne cleanser is the first step to your AM routine which has 2% salicylic acid. Yes, it's very watery, but you just need enough to gently massage your face and neck. Your skin feels fresh afterwards. Next, is your clarifying + refining treatment, also has salicylic acid, but not as watery as the cleanser. Third, if you're initiated treatment, then you would use the calming lotion until your skin gets used to Glowbiotics and you can alternate between the calming lotion and clarifying lotion. Lastly, it'll be the tinted sunscreen.