Post Pregnancy Acne Duo
Regular price
Sale price
$173.00
Unit price
per
Sale
Sold out
Reduce irritation and redness caused by acne after pregnancy
Bring moisture levels back to optimal levels so the skin doesn't dry out and cause more oil production which in turn causes more acne
Unclog pores, exfoliate and reduce irritation using Salicylic Acid
Reduce the size of pores and refine the skin's texture
Target and stop the production of acne-forming bacteria
Helps encourage microscopic exfoliation to assist in the production of healthy and youthful skin
Share
View full details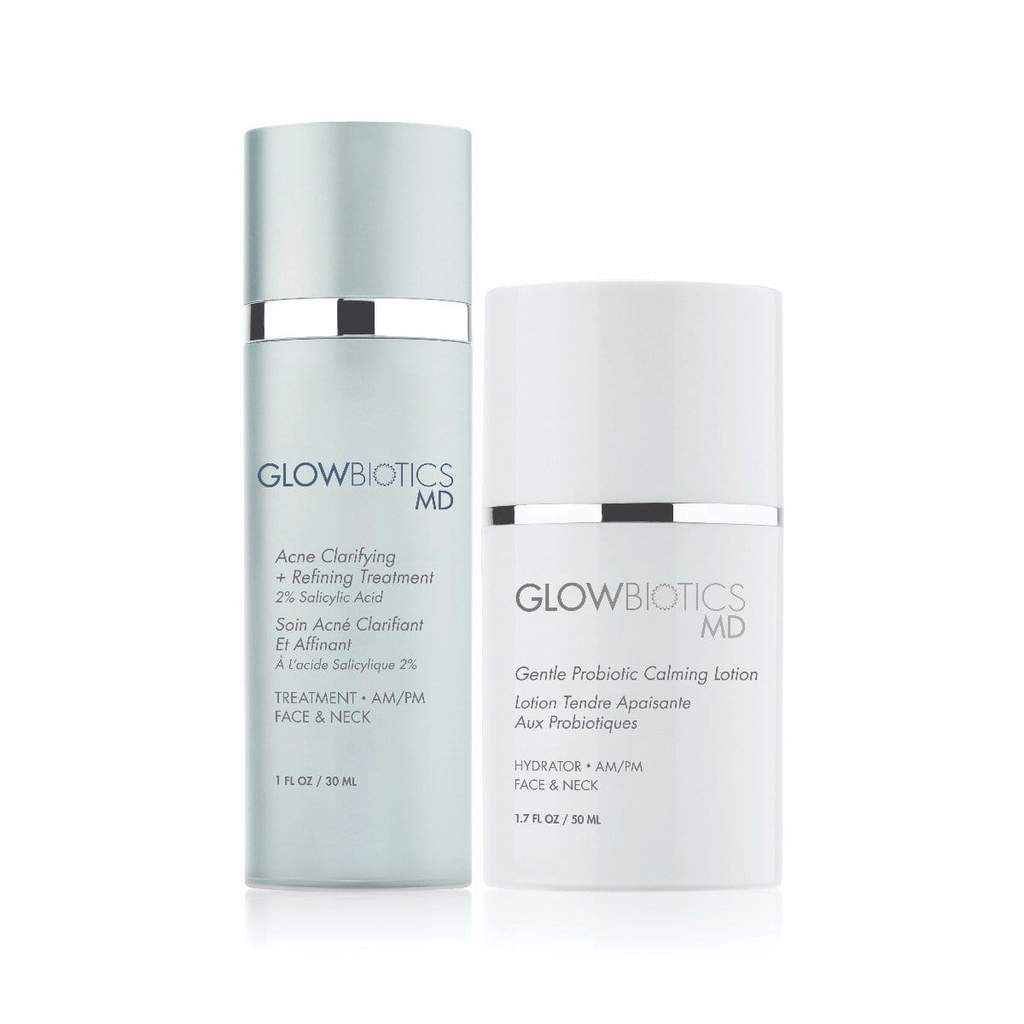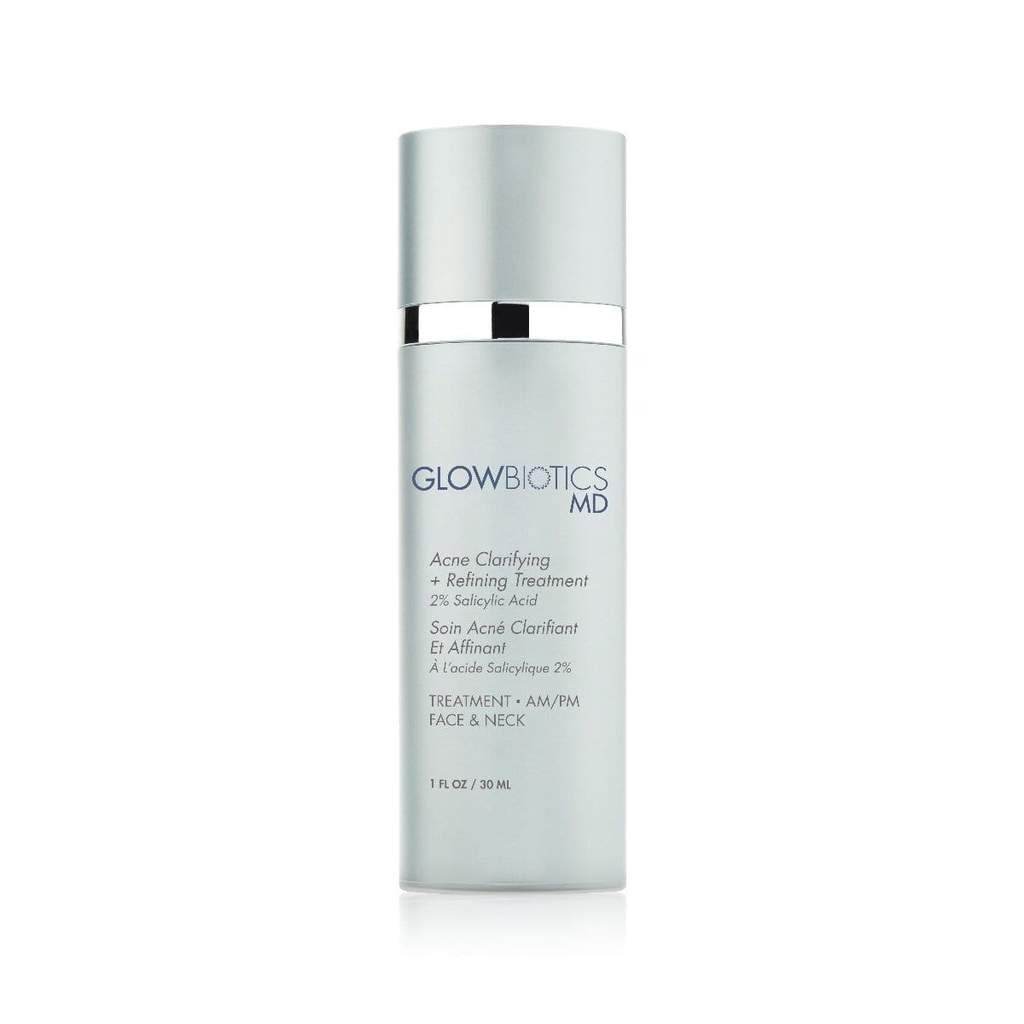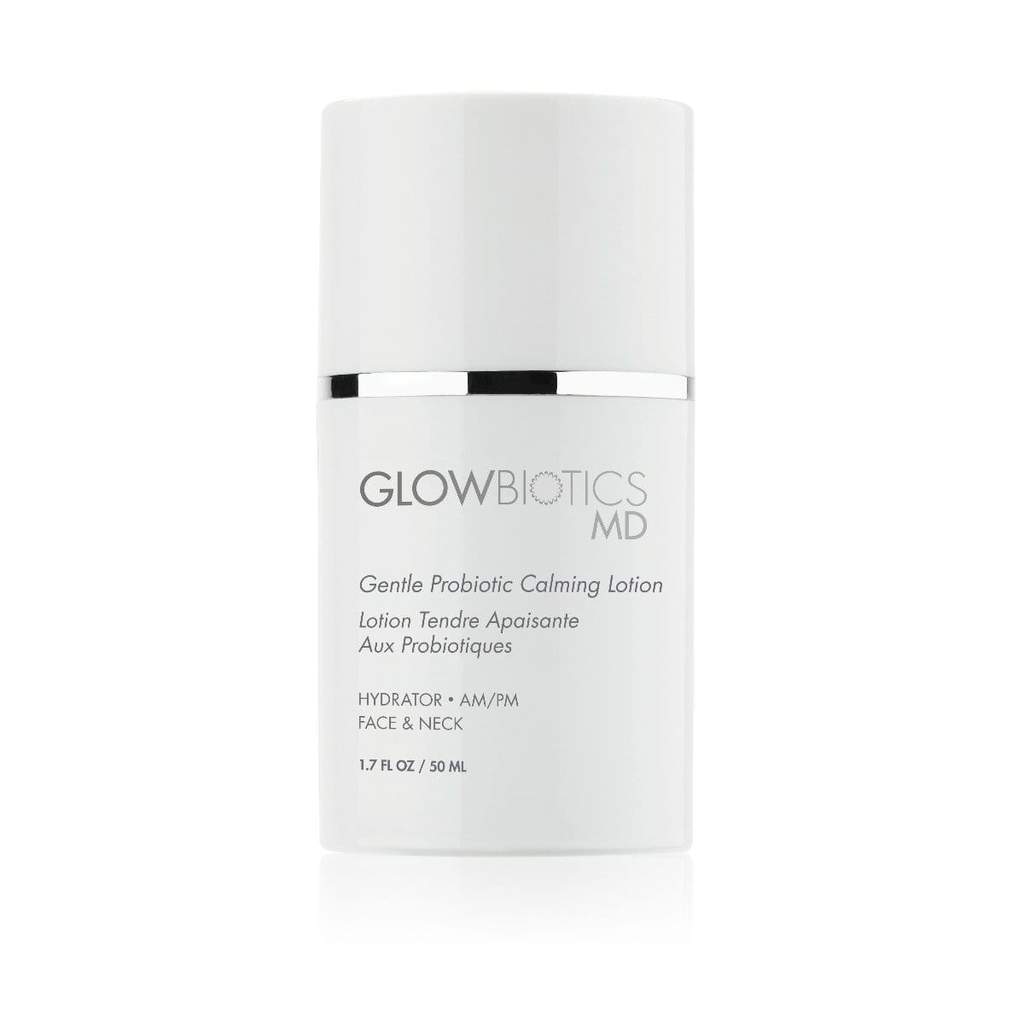 Collapsible content
Learn More

At Glowbiotics, we know that higher levels of hormones during and after pregnancy can cause increased secretion from oil glands, clogged pores and sebum buildup on the skin. Because of the hormonal changes associated with being pregnant, mild to severe post pregnancy acne can occur for some women. Our postpartum skin care was created with new moms in mind. Taking care of your skin can be hard during the early stages of parenting, which is why we at Glowbiotics created the perfect duo of a skin treatment and lotion help reduce the appearance of breakouts and uneven skin tone. This post pregnancy acne duo uses topical probiotics to bring the skin back to balance.
Skin Types and Concerns

Skin Types: Oily Skin, Normal Skin, and Combination Skin

Skin Concerns: Acne Prone, Hormonal Acne, Post Pregnancy, and Polycystic Ovary Syndrome
How to Use

Acne Clarifying + Refining Treatment
Clean the skin thoroughly before applying this product. Cover the entire affected area with a thin layer one to three times daily. Because excessive drying of the skin may occur, start with one application daily, then gradually increase to two or three times daily if needed or as directed by a doctor. If bothersome dryness or peeling occurs, reduce application to once a day or every other day. Can also be used as an effective acne spot treatment.

Gentle Probiotic Calming Lotion
Use this Skin Calming Moisturizer in the AM/PM. Apply generously to face and neck.

Ingredients

Key Ingredients

Acne Clarifying + Refining Treatment

Probiotics:

Non-living molecules of body friendly bacteria, act as a protective shield and strengthen the skin's ability to repair itself while reducing inflammation.
2% Salicylic Acid:

A multifunctional exfoliant helps unclog pores and is an anti-irritant, anti-inflammatory beta-hydroxy acid (BHA) proven to treat oily and problematic skin conditions such as blackheads and acne.
Glycolic Acid: A highly effective alpha-hydroxy acid (AHA) exfoliant which helps to improve texture and moisture retention in skin. It is very effective in the treatment of fine lines, wrinkles and unwanted brown pigment.
Licorice Root Extract: Is an anti-inflammatory, antioxidant which helps to not only lighten dark spots, but also to inhibit the formation of dark spots in skin. This ingredient is beneficial in controlling oil production and reduces excess oil.
Smart Peptide 13 + Chelasyn® Complex: Exclusive Smart Biomimetic Peptide is time released to work when the skin needs it and "turns on" the genes that stimulate and enhance the production and performance of antibacterial activities to stop the growth of P. acnes bacteria.
*Chelasyn® is a registered trademark of Therapeutic Peptides, inc.
SymCalmin®: Very active ingredient displaying anti-itch and anti-inflammatory characteristics and is highly effective for reducing skin redness and irritation.


*SymCalmin® is a registered trademark of Symrise AG
Eucalyptus Oil: Offers antiseptic and anti-microbial properties.

Gentle Probiotic Calming Lotion

Beta-Glucan: Derived from oat; anti-irritant and skin soothing agent, provides rapid relief from minor skin irritations. Helps to stimulate collagen; is anti-aging and helps with UVA protection. Beneficial for all skin types. This ingredient specifically enhances the probiotic activity.
Safflower Oil: Helps maintain elasticity in the skin; has a high amount of ceramides compared to other natural oils; does not clog pores
Myristoyl Nonapeptide-3: Smart Biomimetic Peptide 189 is time released to work when the skin needs it and "turns on" the genes which produce the enzyme responsible for the conversion of Retinol and other retinoids into Retinoic acid without causing skin irritation. Targets fine lines and wrinkles.
Hyaluronic Acid: A moisturizing ingredient (humectant) known to provide smoothness and softness, promotes growth of new skin cells and supports wound healing in the skin. Acts as a "water magnet" and has excellent anti-wrinkle effects
Niacinamide: Also known as Vitamin B3, improves skin structure for fewer wrinkles, provides a multi-functional attack on hyperpigmentation, helps stop water loss for better hydration, sebum regulating and anti-inflammatory.
Phospholipids: Unique skin identical lipids that help to condition, nourish, hydrate and strengthen the skin's natural barrier (protective) function. Also helps to shuttle ingredients into deeper layers of the skin.
Probiotics: Non-living molecules of body friendly bacteria, act as a protective shield and strengthen the skin's ability to repair itself while reducing inflammation.
Shea Butter: Protects skin from dehydration, helps improve appearance of irritated dry skin as it restores suppleness and increases hydration.
Bisabolobl: Acts as an anti-irritant and promotes the skin's healing process. Helps to restore suppleness and improves the appearance of damaged skin. Helps fight the signs of aging with antioxidant benefits and helps fight bad bacteria.
Vitamin E: An antioxidant that helps fight free radicals which can cause damage and premature aging in the skin.

Full Ingredients:

Acne Clarifying + Refining Treatment

Active Ingredient: Salicylic Acid 2% Other Ingredients: Water/Aqua/Eau, Butylene Glycol, Glycolic Acid, Polyquaternium-10, Eucalyptus Globulus Leaf Oil, Glycyrrhiza Glabra (Licorice) Root Extract, Acetyl Carboxymethyl Cocoyl Glycine, Myristoyl Tetrapeptide-13, Lactobacillus/Saccharomyces/Rice/Sucrose Ferment Filtrate, Hydroxyphenyl Propamidobenzoic Acid, Pentylene Glycol, Potassium Hydroxide, Phenoxyethanol, Caprylyl Glycol.


Gentle Probiotic Calming Lotion

Water/Aqua/Eau, Caprylic/Capric Triglyceride, Glycerin, Cetearyl Alcohol, Niacinamide, Dimethicone, Lactococcus Ferment Lysate, Sodium Hyaluronate, Beta Glucan, Camellia Sinensis Leaf Extract, Aloe Bardadensis (Aloe) Leaf, Xanthan Gum, Ammonium Acryloyldimethyltaurate/VP Copolymer, Myristoyl Nonapeptide-3, Pentylene Glycol, Panthenol, Chamomilla Recutita (Matricaria) Flower Extract, Myristoyl Tetrapeptide-13, Butylene Glycol, Phospholipids, Propanediol, Potassium Cetyl Phosphate, Butyrospermum Parkii (Shea) Butter, Tocopheryl Acetate, Bisabolol, Carthamus Tinctorius (Safflower) Seed Oil, Squalene, Phenoxyethanol, Caprylyl Glycol