Tinted Sunscreen SPF 30 Broad Spectrum UVA/UVB
Regular price
Sale price
$66.00
Unit price
per
Sale
Sold out
Best buy August 30st, 2023
100% Physical Sunscreen, 11% Titanium Dioxide, 4% Zinc Oxide
Water-Free for smooth, breathable finish
A soothing, tinted makeup primer/ SPF 30 all- in-one
Rich with vitamins and antioxidants
Non-greasy, silky texture
Small amount is all that's needed when applying
Excellent for use Post Procedure
Share
View full details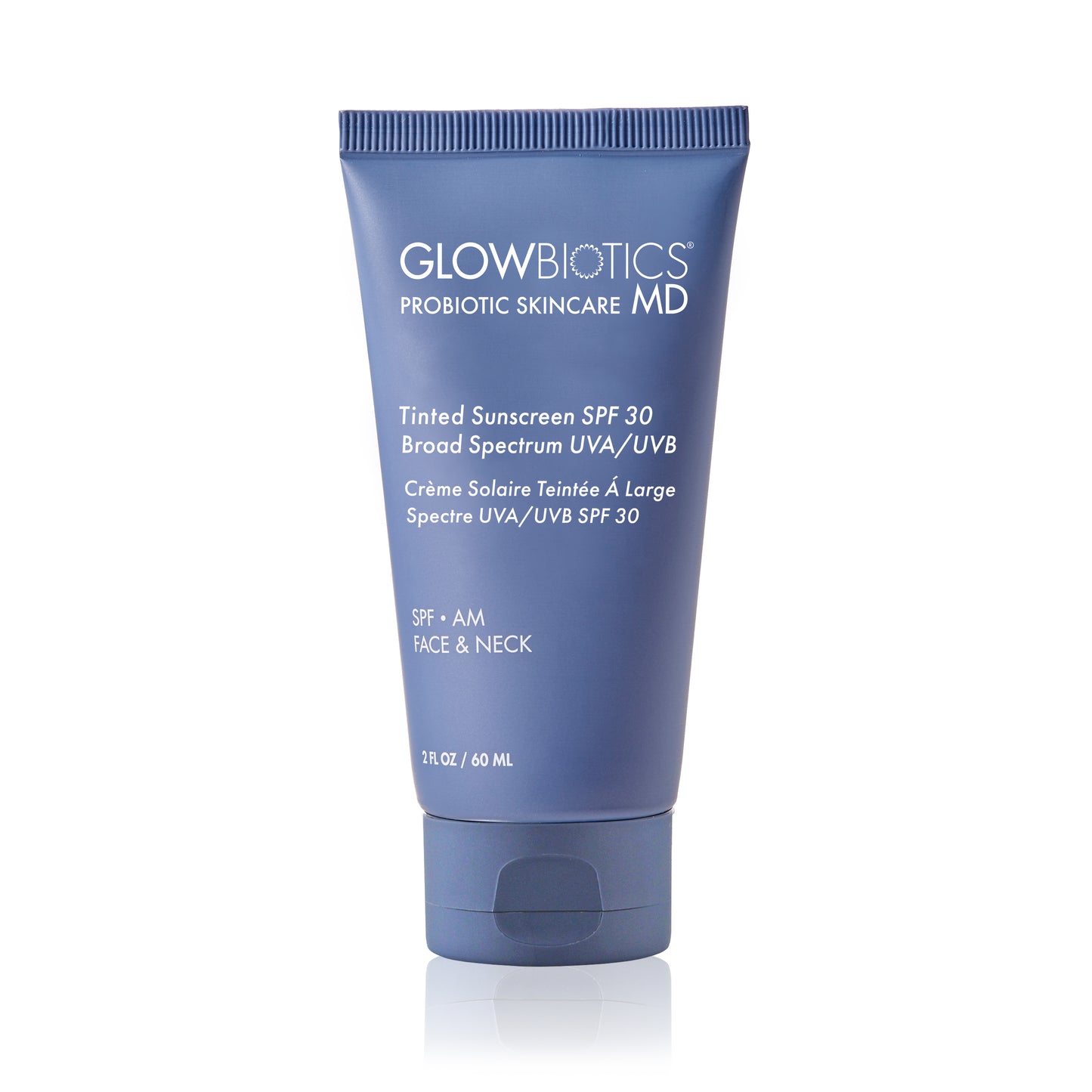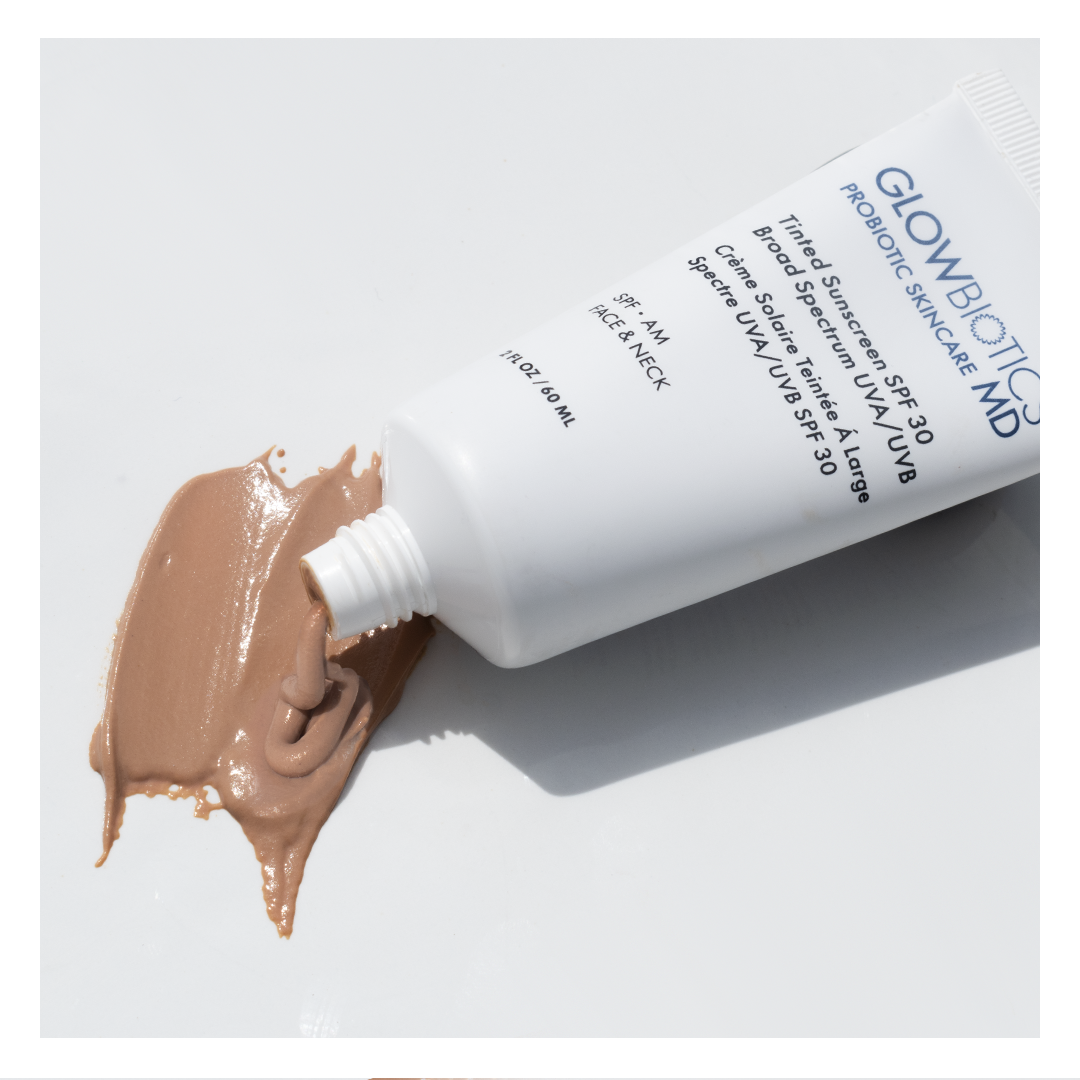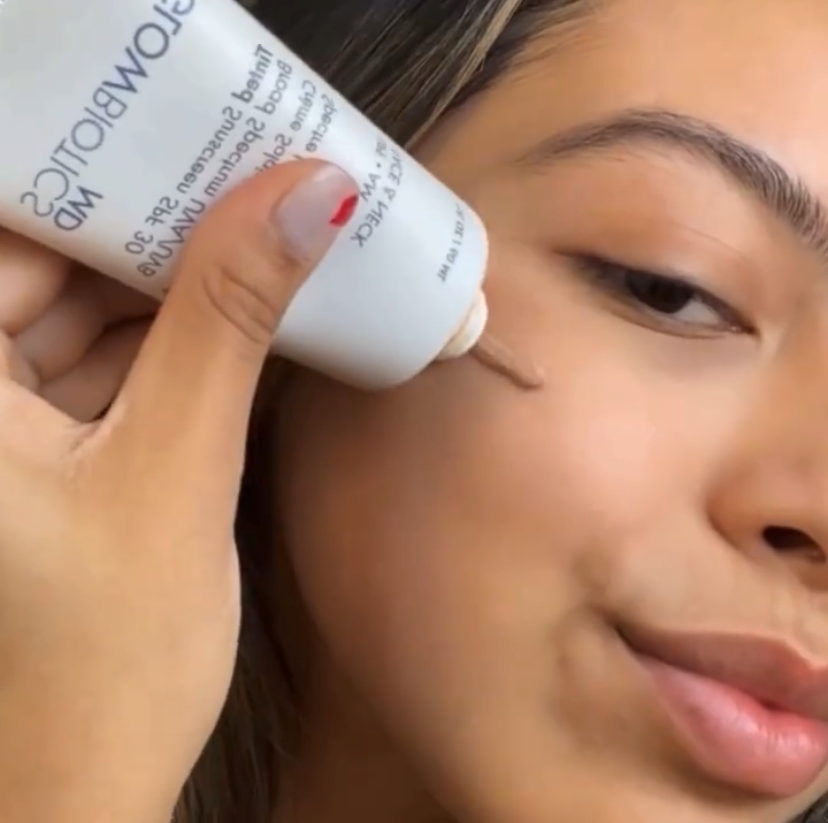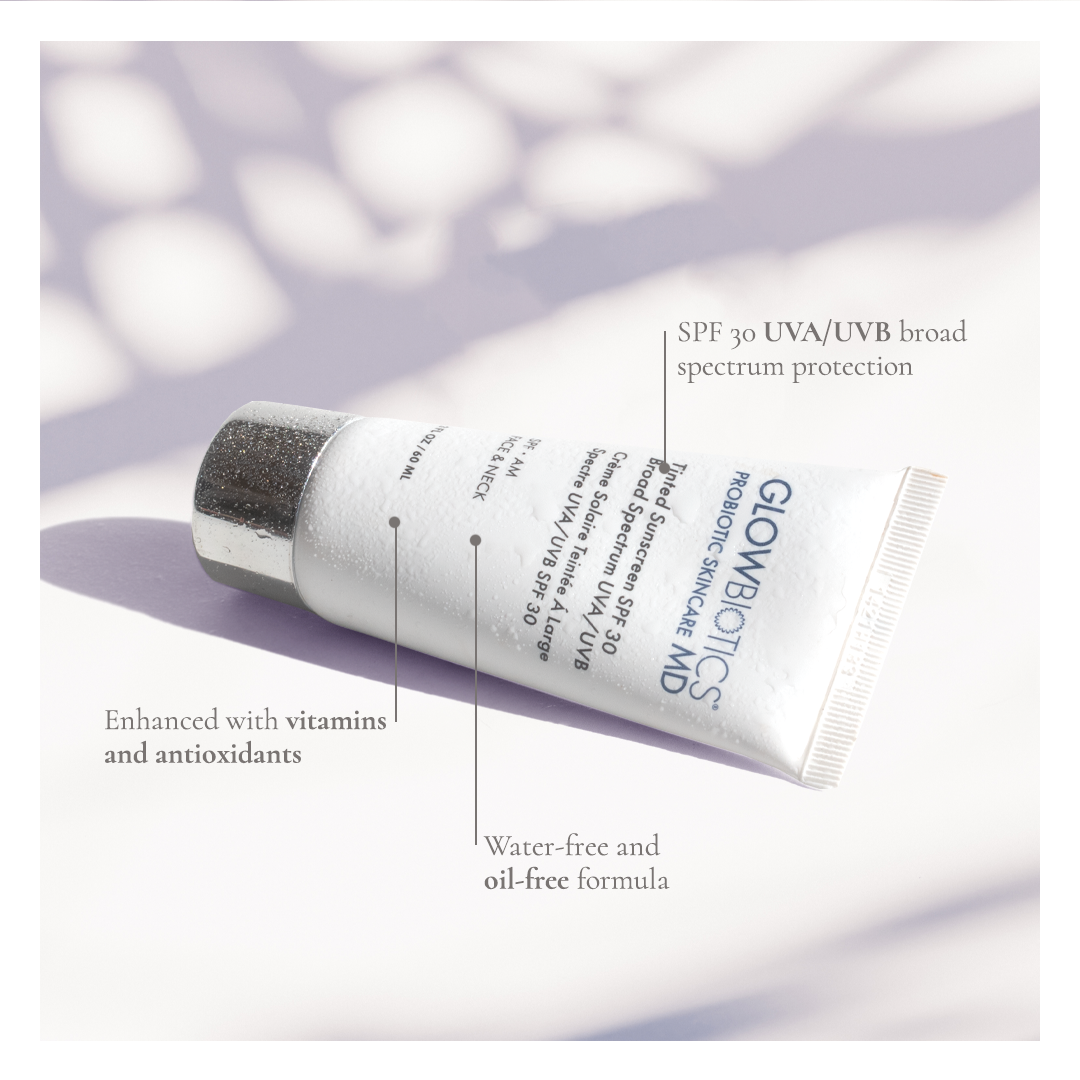 Collapsible content
Learn More

Here comes the sun – and beautifully bright, protected skin. This high-performance, non-irritating tinted sunscreen SPF 30 is specifically designed for the delicate face and neck area and provides that broad spectrum SPF 30 protection. This water-free formula is enhanced with essential vitamins and antioxidants, making it great for all skin types. Best of all, it's the ultimate daily tinted makeup primer. When you shop Glowbiotics, you know you are buying the best products and highlighting your inner beauty.

This amazing product is a sulfate and paraben free sunscreen, so this product will never have any unwanted chemicals added to your daily routine. If you are looking for a new favorite broad spectrum sunscreen, Glowbiotics has you covered. Buy now!

REEF SAFE 

A reef-safe sunscreen does not contain the chemical sunscreen agents octinoxate or oxybenzone. While these ingredients provide effective sun protection, they have been shown to cause damage to coral reefs when worn in the ocean. The damage it causes, known as coral bleaching, can disrupt delicate ocean ecosystems by hampering the development of marine life.
Skin Types and Concerns

Skin Types: Dry Skin, Oily Skin, Normal Skin, Combination Skin, Sensitive Skin, and Teen Skin

Skin Concerns: Acne Prone, Estrogen Depletion, Excessive Dryness, Fine Lines and Wrinkles, Hormonal Acne, Hormonally Challenged, Hyperpigmentation, Polycystic Ovary Syndrome, Post Pregnancy, Pregnancy, Redness and Rosacea, Sagging Skin, Shaving Issues, Sun Damaged, and Thyroid Fluctuations
How to Use

Use AM. Dispense a dime amount onto fingertips. Blend product between fingertips before pressing onto skin and spreading out toward hair line. Apply as needed to face and neck area. Can also be applied to the ears, hands and décolletage. Apply evenly 15-30 minutes before sun exposure and as needed. Reapply as needed or after swimming or perspiring.
Ingredients

Key Ingredients

Titanium Dioxide: A non-chemical SPF ingredient, natural earth mineral, offers gentle protection from UVA & UVB rays in the eye area without causing stinging.
Zinc Oxide: A non-chemical SPF ingredient, a natural earth mineral, offers soothing protection from sunlight as it reflects both UVA & UVB sun rays.
Advanced Silicone Elastomer: Unique compounds that impart a light, non-greasy and silky feel; provides substantial resistance to wash-off, which acts to boost protective benefits.
Melanosponge®: A series of natural photoprotective compounds; excellent antioxidants and free radical quenchers – ten times more effective than vitamin E; microsponge delivery system provides programmed release of melanin on the top layer of the skin, which heightens the effectiveness of the sunscreen.
*Melanosponge® is a registered trademark of AMCOI International Corp
Vitamin D3: A form of vitamin D recently proven to help relieve skin itching and bad reactions from sun exposure; it also helps the skin repair from wounds.
Lycopene: Found in tomatoes; antioxidant packed with powerful benefits including skin protection; improves skin texture and improves cellular function.

Full Ingredients:

Active Ingredients: Titanium Dioxide 11% • Zinc Oxide 4%, Other Ingredients: Cyclopentasiloxane, Titanium Dioxide, PEG-10 Dimethicone, Dimethicone Crosspolymer, Zinc Oxide, Dimethicone/Vinyl Dimethicone Crosspolymer, Alumina, Methyl Methacrylate, Calcium Behenate, Sorbitan Isostearate, Methicone, Tribehenin, Cyclotetrasiloxane, CI 77492, Dimethiconol, CI 77491, CI 77499, Melanin, Glycerin, Lycopene, Lecithin, Sucrose Palmitate.
Reviews & Questions

Great primer

I had purchased this product about 2 weeks ago and I am pleased with the performance so far. I wanted to give it a try for days where I don't want to apply foundation and have an even more of a natural look. The texture is thicker, but smooth like a primer. I use about a dimes worth of product, dab over my face to blend. It blends well with my fingers and isn't super pigmented and does just enough to even out my skin tone. I have used alone or as a primer. I like the fact that it's SPF 30. I'm 47, fair skinned and auburn so SPF has always been important to me. Don't confuse this product as a BB or CC cream as it's not the same. I wish Glowbiotics would come out with that. I'm so impressed with their products that I feel that would be stellar if offered.

Tinted Sunscreen

I have tried a lot of tinted sunscreens and really love this one. I wouldnt really classify it as tinted because it doesnt provide a tint -- goes on the skin very white but blends easily and you can feel the coverage. I can wear it all day without it caking or making me sweat more! Love having such a convenient way to wear SPF!

Probiotics tinted moisturizer

The probiotic tinted moisturizer is amazing. It goes on so smooth and gives your face a glow. it gives you a smooth natural look and covers up discoloration spots on your face.

This is my favorite tinted sunscreen.

This is my go to tinted sunscreen. I wear it every day. I struggle with redness and it almost completely covers it without feeling heavy. I highly recommend.

Natural look

I love, love, love this product. My esthetician is the one who introduced me to GLOWBIOTICS . This product covers so much, yet it's light and natural. I have some large pores and this fills in the areas and creates a smooth look. The fact that it is also a tinted sunscreen is a bonus! I could not imagine a day without it.